The Databases Tab allows you to score databases and Excel files and gives access to the following settings and features: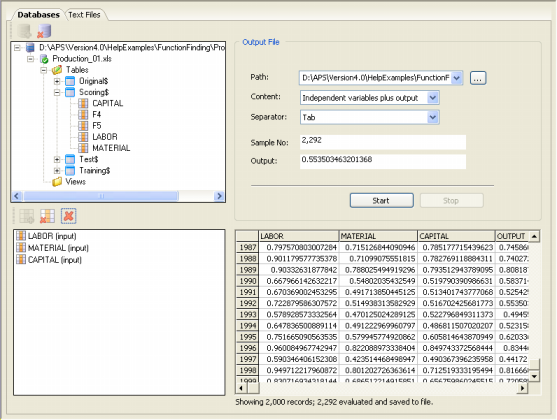 Add Data Source Icon
Opens the Data Source Dialog Box.

Remove Data Source Icon
Removes the data source.

Data Source Window
Shows the data source with its tables and columns. Columns and entire tables can be dragged and dropped onto the Scoring Data Window below.

Add Column Icon
Adds a column selected from the Data Source Window above.

Remove Column Icon
Removes a selected column from the dataset.

Remove All the Columns Icon
Removes all the columns from the Scoring Data Window.

Scoring Data Window
You prepare your scoring data here by dragging and dropping the columns with your variables from the Data Source Window. You can also reorganize your dataset by moving a selected column up or down with the mouse. Remember, however, that your scoring dataset must have exactly the same number of inputs as there are independent variables in your training data.

Output File Framework
In the Output File Framework you enter all the information concerning the output file.

Output File Path
You can either enter the path for the output file or click the button on the right of the list box to browse the Path for the output file.

Output File Content
Here you decide whether you want to include in the output file the columns with the independent variables or just the output.

Output File Separator
Here you choose the separator you want to use in the output file (this is only relevant if you'd choose also to include in the output file the columns with the independent variables).

Sample Number
Shows the number of the sample being processed.

Output
Shows the output obtained for the current sample.

Start Button
Starts the scoring process.

Stop Button
Stops the scoring process.

Scoring Results Table
GeneXproTools saves the scoring results to a file, but for small datasets (up to 16 variables and 2000 samples), GeneXproTools also shows the scoring results in their entirety on the Scoring Panel for an immediate assessment. For datasets with more than 16 variables, though, only a single column with the output is shown.