The Training Data Window gives access to the following settings and features: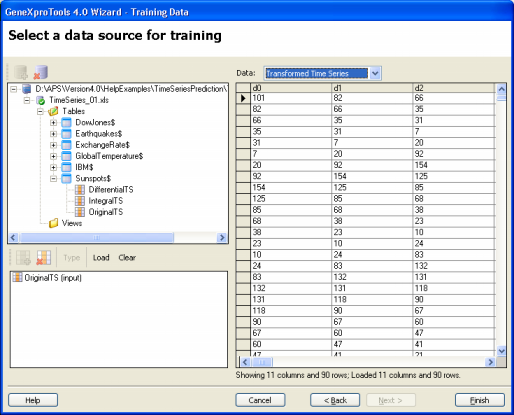 Add Data Source Icon
Opens the Data Source Dialog Box.

Remove Data Source Icon
Removes the data source.

Data Source Window
Shows the data source with its tables and columns. Columns and entire tables can be dragged and dropped onto the Time Series Window below.

Add Column Icon
Adds a column selected from the Data Source Window above.

Remove Column Icon
Removes a selected column, in this case, the single column with the time series.

Type Menu
This menu is disabled in Time Series Prediction as GeneXproTools automatically transforms the times series and automatically sets the predictable.

Load Button
Loads and transforms the time series.

Clear Button
Removes the column with the time series from the Time Series Window.

Time Series Window
You prepare your training data here by dragging and dropping the column with your time series from the Data Source Window. And, after clicking the Load button, GeneXproTools will automatically transform your time series according to the parameters entered on the Run Category Window (embedding dimension, delay time, and prediction mode).

Data
In this list box you can choose to see on the table below the Transformed Time Series, the Original Time Series, and the Time Series Testing Samples when in Testing Mode. GeneXproTools only shows 2048 columns in the New Run Wizard, but obviously loads them all, and you can see the exact number of loaded/shown columns on the status bar at the bottom of the table.

Help Button
Opens the Help File.

Cancel Button
Cancels all the action on the creation of a new run.

Back Button
Takes you to the previous window of the New Run Wizard.

Finish Button
Opens the Save As dialog box to save the new run.