PayPal is widely used and is the safer, simpler way to pay for goods and services online, which is the reason we use their services to sell our products.
Although simple and easy to use, PayPal's versatility can sometimes be daunting, especially for the newcomer. In this brief tutorial we'll show all the basic steps and all the actions you'll need to take to purchase our products with PayPal.
If you are new to PayPal
If you don't yet have an account with PayPal, the simplest way to make your payment is to use your credit card. For that you select the product you want to buy in our Purchasing page and click the Buy Now button. This will take you to Gepsoft's Credit Card Checkout page in PayPal: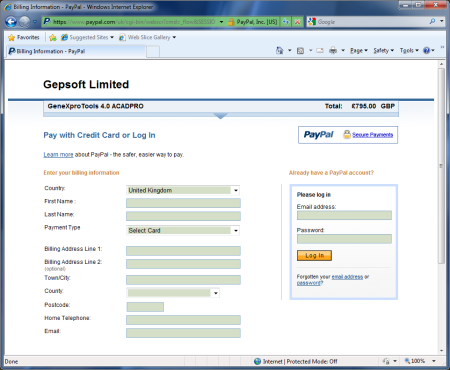 After filling the form and submitting it, you will have the chance to review your order and finally pay for the license.
If you already have a PayPal account
If you are already registered with PayPal, after you press the Buy Now button in the Purchasing page you will be directed to the PayPal Payment Checkout page: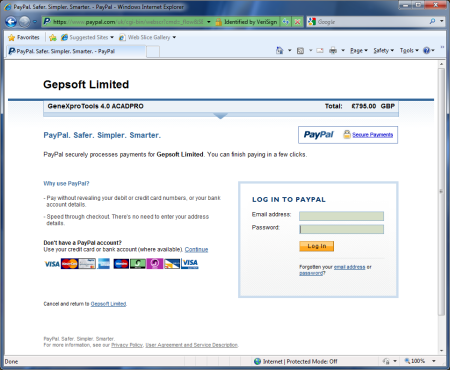 In this case you have two options: (1) you can simply pay using your PayPal account or (2) you can also pay using your credit card without logging into PayPal. You may want to do the latter if, for example, you are buying the software for a company or institution using a corporate credit card. In order to do that, you must click the "Continue" link (highlighted in red) under the section "Don't have a PayPal Account?":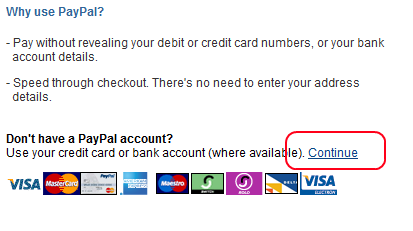 Clicking this link will take you to the PayPal Credit Card Checkout page shown at the top of this page. After filling the form and submitting it, you will have the chance to review the order and finally pay for the license.
Registering with PayPal
In some countries PayPal will not let you use a credit or debit card but you can still pay using PayPal if you create your own PayPal account. After you register with PayPal, they will deposit a small sum of money (say 53 cents) in your credit card so that you can enter this value in their account validation form. This usually takes 2-3 days to appear in your credit card balance. However you can speed things up by calling your credit card helpline and ask them for this value PayPal deposited in your account. After completing this step with PayPal you will be able to pay for your order. For more information about PayPal and how it works in your country, please visit Paypal's website.
Other payment options
If for some reason you are not able to pay through PayPal you can still make your payment using Wire Transfer or Check. Please contact us and we will send you all you need to know to proceed with your order.